By Garland Davis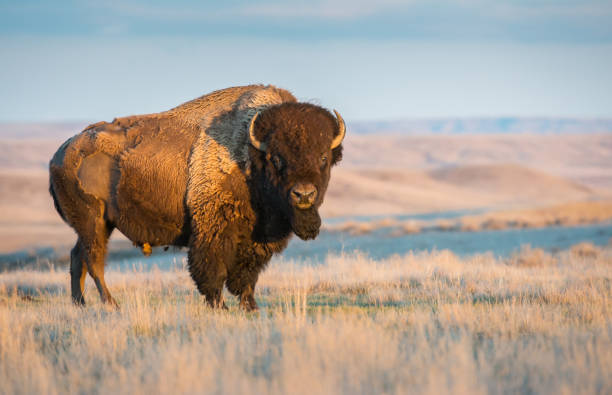 He was from a small town called Flop in a Great Plains midwestern state.
The town was built on top of a hill and was one of the highest places in the state. The townspeople billed the town as 1,200 feet above sea level although it was only a few feet above the surrounding prairie.
The founder of the town had been bound for Oregon with trade goods when his wagon fell apart after climbing a slight slope to the dizzying heights.
Since he couldn't continue his migration, he decided to settle there. He knew the winter would be harsh and he must build a shelter but the only materials available were dried grass and thousands of dried Buffalo Flops. Desperate, he built something that looked like an igloo using the flops. He called it the Flop House.
During the fall and spring, he traded some of his goods to some Indians for buffalo skins. He was afraid not to. He thought that they might scalp him otherwise. In the spring a troop of buffalo hunters came through and bought his skins for more gold than he dreamed they were worth.
He rode one of his horses back to civilization, bought a wagon, trade goods, and went back to the Flop House and set up a trading post. He also hired a couple of boys to hunt buffalo and found himself in the trading and skin business.
Over the years lumber and building materials were brought in and a town grew there on the hill. In homage to the stuff that saved his life that first year, he named the town Buffalo Flop.  He built a building which contained his living quarters, a trading post, a saloon, a few rooms to rent, and a whorehouse. Of course, he called it the Flop House. It was said that he kept a dried flop beside his bed because he couldn't sleep without the smell of buffalo shit.
Somewhere long after he was gone and his descendants ran the Flophouse as a General Store, Saloon, and two ladies plied (we don't say that in polite company) another enterprise from the two rooms in back. Th grandchildren also operated a buffalo ranch on the prairie surrounded by cornfields.
A few years ago, to make the name sound more respectable, the town elite proposed they change its name to Buffalo. Another faction wanted to call the town something else because there were already a few towns named Buffalo. A third faction, comprised mostly of Oldtimers, wanted to leave the name as Buffalo Flop.
After much discussion, arguments, acrimony, and one gunfight they settled on Flop as the new name although it took six years to get the U.S. Postal Department to recognize the name change and almost a decade to get Rand McNally to list it as Flop instead of Buffalo Flop in their maps and atlases.
By 1960 the town population was a little over 600 and was pretty static. As soon as the youngsters gained adulthood, they left for greener pastures. There wasn't much of a future in Flop.
Our hero from Flop enlisted in the Navy and was sent to San Diego for boot camp and afterward ordered back to the Midwest to attend Boiler Technician School at Great Lakes.
From BT School our BTFN was ordered to an old WWII destroyer homeported in Japan. He spent the next six years rotating to two other ships there and eventually attained the rank of Petty Officer Second Class. BT2.
Finally in 1978, his ship changed homeports to Long Beach, CA. He immediately started scheming to get back to the Western Pacific. In the meantime, he decided to visit his older sister, who had raised him after his Mama died. He took the train into a large midwestern city and caught the Greyhound into Flop.
The Vietnam War was raging, and the town leaders jumped on the fact that he had fought in the war, albeit from a gun platform off the coast. He was the closest thing to a war hero that flop had ever had. He had sent his sister copies of his certificates for the Vietnam Service Medal and the Combat Action Award, and the town council declared him a bonafide hero and voted to award him $100 to help pay for his vacation.
BT2 played the hero, took their hundred bucks, and as darkness fell, repaired to the Flophouse saloon for a few cold ones and to see if there was any action to be had.
The townsfolk were not shocked that he went to have a few drinks. Men did that.
They weren't shocked that he sampled the wares of one of the ladies. Single men and some married men did that.
But… The town women were scandalized by the perversion and the town men were walking around with half a chub imagining doing it themselves.
BT2 took BOTH of the whores to bed at the same time…
…and the town paid for it!